The fantabulous
Wee Birdy
blog which is just beyond amazing(I could actually link all of her posts to here they are so lovely) posted these incredible book/sculptures/illustrations/wondrous magicalness to summon in the spring.
The artist,
Su Blackwell
somehow cuts delicate shapes out of old books so it really appears as if the books come to life as if in an enchanted fairy world.
I especially love the ones made from classic children's stories such as the 12 Dancing Princesses and Alice in Wonderland. Shoe and I have a mutual obsessions with old books,children's stories especially and find it hard to walk past any dusty, fusty bookshops we pass on our travels.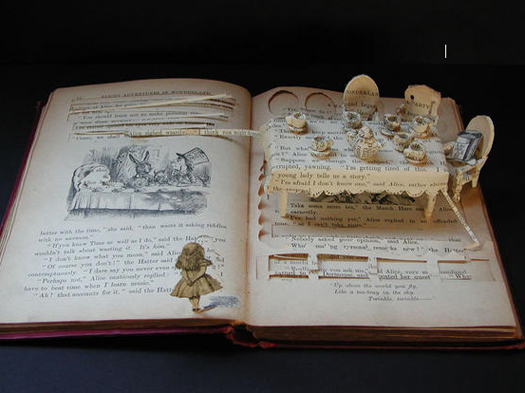 And these are almost impossibly intricate and fragile,you can't help but be drawn into the flight of fancy. It's as if they will be blown away by the slightest gust of air.
Wild Swans and The Secret Garden
I love how Su Blackwell describes her work-
It is the delicacy, the slight feeling of claustrophobia, as if these characters, the landscape have been trapped inside the book all this time and are now suddenly released.
Much more to wonder at on her
website
.